My father has always liked to say that "people who can get to the end of their lives and count their good friends on one hand have been a success". I think he is probably right. I must admit - I have had many friends come and go through my life but I am truly grateful for all of them...(even the ones who left)...
I'm currently working on a book of some inspirational quotes from anywhere I can source them from and one I am going to mail to my friends is the following:
"Truly great friends are hard to find, difficult to leave, and impossible to forget." - G. Randolf
As I am sat here late at night, working at my desk, a donation came in from last week's "begging email". In it was twenty dollars (about £10.00) from my oldest friend in the world, Sharon. We've been friends since third grade. Though she lives in Utah, and we seldom speak, Sharon is no less of a friend. We had amazing times in the Californian mountains growing up, and later on as we both studied in London in 1987.
I can't begin to tell you how touched I was by the donation. Some people I thought would support me, simply haven't even acknowledged the email. Some have offered "advice" but "no money"....and yesterday more than a hundred pounds arrived in the mail. (Couldn't have arrived on a better day!) ;)
It's not just about the money it's about people supporting me. Their support no matter how small (in some cases) is bolstering me up...It's helping to vanquish the self-doubt that sometimes ails me. Yeah, I know it (belief) needs to be an "inside job" - but the support of family and friends is proving invaluable to me. It really is. So if you have taken the time to support me, thank you so much!
As Gandhi once said: "If I have the belief that I can do it, I shall surely acquire the capacity to do it even if I may not have it at the beginning."
Truer words seldom spoken...
I guess the kindness of some is helping obliterate my disappointment in others. I know I have the CHOICE to be disappointed or not. I do realise that, so am doing my utmost to not be disappointed. Sometimes though it's challenging and feeling hurt seems inevitable. At least my periods of being "hurt" are much shorter than they've ever been before in my life. So that is progress indeed. How great would it be to eradicate hurt and disapponitment in others completely?
SOCIAL BUTTERFLY!
It is so exciting. It's truly becoming a very busy diary for the next three or four months...planes, trains and automobiles - across the UK and US.....London, Manchester, Liverpool, Exeter, New York, Boston, Pittsburg, Cleveland, SF etc...And I am sure many other places in between...
How blessed am I? In some ways "poor" but in most ways "rich"...
THE BUCKET LIST
I checked out the new film THE BUCKET LIST today. Talk about perspective. Freeman and Nicholson were both super-excellent. Their chemistry was fantastic. Bring tissue!
I've long since had a list of things to do before I die and slowly I am ticking them off one-by-one. On there were things like "visit the Grand Canyon" and "Go to Italy" and "buy a home" - among other things. I think it's time to update the list...For instance I've been to NYC three times and I've yet to walk around Central Park. This May for sure! :)
WE ARE TOGETHER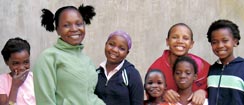 Well good news - you can find out if
WE ARE TOGETHER
is playing in your area on this page
here
. Don't just take my word for it. It's getting wonderful reviews, has taken all kinds of awards at various festival and even BONO says "it's an incredible piece of work".
PARTING QUOTE
To wrap up...
"Some friends are always there during the good times; others rush to help at bad times. True friends rejoice at your good news and cry with you when you're sad." - Judy Ashberg